Port Terminal Facilities
Infrastructure
The autoterminal Barcelona storage capacity is above 50.000 units (955.630 sqm)
Hover your mouse over the map to display the storage and berthing areas
Storage
Multistorey 1
7.077 units
Multistorey 2
6.813 units
Multistorey 3
2.507 units
Multistorey 4
2.762 units
Multistorey 5
6.600 units
Berthing
29A
30A
30B
30C
31A
31B
Railway Stations
Príncipe España
Moll Energía
Dársena Interior
1
Príncipe España
1 UIC+IB+M track 600m
2 UIC+IB tracks 750m
1 UIC+IB+M track 750m
2
Moll Energía
3 UIC+IB tracks 650-680 m
3
Dársena Interior
4 IB tracks 280 m
Storage
Select the multistorey to highlight it in the map
Multistorey 1
7.077 units
Multistorey 2
6.813 units
Multistorey 3
2.507 units
Multistorey 4
2.762 units
Multistorey 5
6.600 units
Berthing
Select the berthing to highlight it in the map
Railway Stations
Select the railway station to highlight it in the map
Príncipe España
Moll Energía
Dársena Interior
Storage capacity
Covered space in 5 multistorey
Additional capacity (Out of concession)
3 RAILWAY STATIONS
Autoterminal Barcelona acts as Railway Loader for their customers in the 3 Public Stations adjacent to its facilities as follows:
Príncipe España
1 UIC+IB+M track 600m
2 UIC+IB tracks 750 m
1 UIC+IB+M track 750 m
Moll Energía
3 UIC+IB tracks 650-680 m
Dársena Interior
4 IB tracks 280 m
UIC -> European | IB -> Iberian | M -> Metrick
A Buffer area inside the first one was created to allow an agile and safe un/load operation to increase our ratio.
Autoterminal puts at your disposal a professional and dedicated staff and also a modern fleet to perform your rail operations according to the required standards of the different logistic operators:
Team Leaders & Mechanics to achieve an operational success with dedicated means.
4 Mobile Ramps, Power Generators and Electromechanical Threading Machines.
Full Flexibility to work 24 hours in a day including weekends and holidays (except non-working days).
6 Railway Certificates, issued by Renfe, which allow us get your success according to international regulations.
RECEPTION & DELIVERY AREAS
Fast and easy access to Autoterminal Barcelona: trucks can enter to our terminal facilities with zero waiting time at the gate of entry.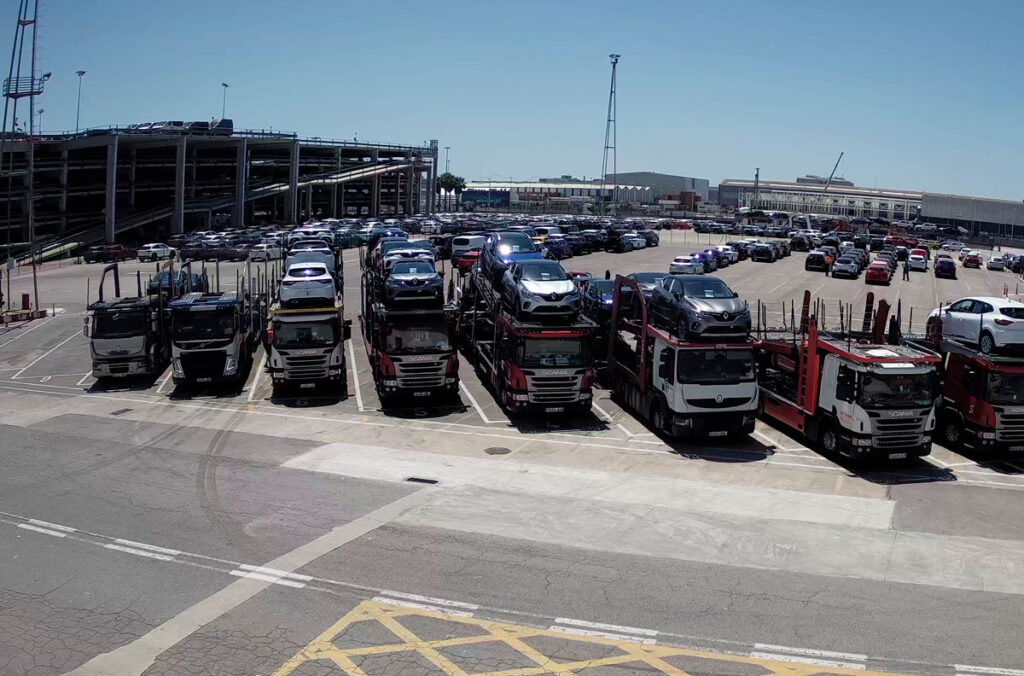 14 truck parking slots for reception operations
Reception buffer with a 200 vehicle capacity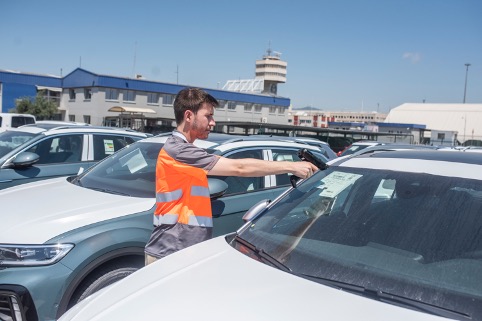 72 truck parking slots for delivery operations
Delivery buffer with a 1.100 vehicle capacity
Fast delivery with the active tag RFID technology
Fast & easy trucks access with zero waiting time at gate of entry
Batch or picking deliveries possible using RFID technology – instant vehicles localization
Optimized internal truck flows and fast delivery process with 2 truck delivery areas